3rd European Joint Meeting of ENEC
Assessing and Measuring Education for Environmental Citizenship (EEC)
4-5 June 2019
Stavanger, Norway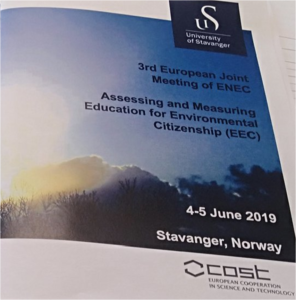 1. Event: 3rd European Joint Meeting
2. Location: Stavanger, Norway
3. Dates: 4 June and 5 June 2019
4. Meeting Venue: University of Stavanger campus

The meeting venue is at the University of Stavanger campus, located about 5 kilometers from downtown Stavanger. We will use several flexible and well-equipped classrooms and meeting rooms in a newly built wing of the humanities building, Hulda Garborgs hus, located right next to Stavanger Botanical Gardens. This building is a few minutes walk away from the nearest bus stop. Our main rooms will be N-106 and N-107.
Street address: Rektor Natvig-Pedersens vei 24, Stavanger

Stavanger Airport, Sola (SVG) has direct flights from 30 international locations, including London, Stockholm, and Copenhagen. See https://avinor.no/en/airport/stavanger-airport#directflights for a full overview. The airport is located only 15-20 minutes from town. There are two airport bus routes to town, one of which stops at campus (marked as via SUS and UiS) – see https://www.flybussen.no/en/ruter/stavanger for routes.
We have a limited number of rooms booked at the campus hotel Ydalir. This is a new and very nice hotel located close to the meeting venue. We have a negotiated rate of NOK 940 per night, right under 100 euros. It is very conveniently located for the meeting itself, but if you want to see more of Stavanger itself, with its scenic downtown area on the water and the lively (but expensive) nightlife, you might want to book a hotel downtown instead and take the bus to the meeting.
I recommend using a site like hotels.com to find rooms – I can recommend Comfort Hotel Stavanger, Radisson Blu Atlantic Hotel, Clarion Hotel Stavanger, and Scandic Park Hotel, but many others are also available. Hotels in Stavanger are not necessarily cheap, but right now there are many that have availability for prices around the 120 euro per night that COST covers.
If you want to stay at Ydalir, you can book from hello@ydalir.no using the booking code: CostYdalir – please do so as soon as possible, before April 17. After this, they cannot guarantee that they will have rooms available.
Stavanger has good bus connections from town to campus, taking approximately 20 minutes. For bus routes, see https://www.kolumbus.no/en/ – routes 6, 7, X60, and E90 stop at campus. I recommend installing the Kolumbus Billett app on your phone (iOS and Android) for the cheapest and most convenient tickets. You can also pay with cash on board, but not with card. Note that Norway uses kroner, not the euro!
Stavanger is one of the largest cities of Norway, located down on the southwestern coast. The city was founded around 1125 with the completion of Stavanger Cathedral (which is still standing downtown). The Jæren region surrounding the city is today a major agricultural area, but was an economic and military centre as early as the Viking era. Stavanger has experienced several periods of dramatic economic growth: first connected to the canned fish industry of the 19th century, and later with the oil industry from the 1970s. Today, Stavanger is the oil capital of Norway.
Stavanger is a very international city with a great food scene, and was also the European Capital of Culture in 2008. It has many good museums – the Oil Museum and the Canning Museum are both highly recommended. Walking around old town Stavanger, with the densest concentration of wooden houses in Norway, is also worthwhile.
Climate-wise, June is one of the nicest months in Stavanger, but note that it rains fairly often here, so it would be wise to bring an umbrella.
The meeting is sponsored by University of Stavanger; The Greenhouse: An Environmental Humanities Initiative; and the Research Council of Norway.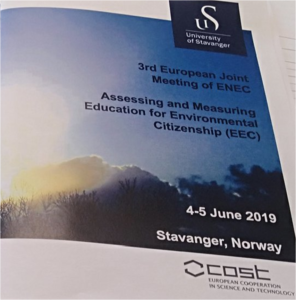 4th European Science Café of ENEC in Banja Luka, Prof Mirjana ZABIC, University of Banja Luka, Bosnia & Herzegovina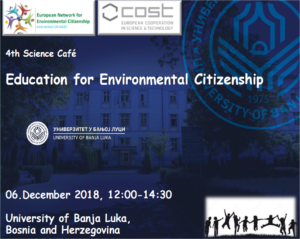 5th European Science Café of ENEC in Budapest, Prof Adrienne CSIZMADY, Centre for Social Sciences, Budapest, Hungary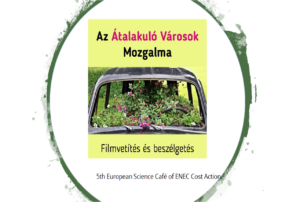 The sustainability consciousness questionnaire – A scale to measure the holistic and integrative concept of sustainable development, Prof Niklas GERICKE, Karlstad University, Sweden
Action Competence in Sustainable Development – A novel questionnaire for a promising concept, Jelle BOEVE-DE PAUW, Wanda Sass, Sven De Maeyer and Peter Van Petegem, University of Antwerp, Belgium
Questions relevant to environmental citizenship in the ICCS 2016 student questionnaire, Dr Lihong HUANG, Oslo Metropolitan University, Norway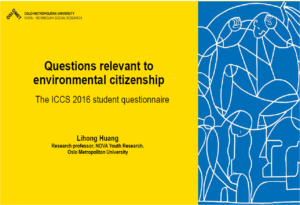 Environmental Citizenship Questionnaire, ECQ: Insights from a Cyprus study, Dr Andreas HADJICHAMBIS & Dr Demetra PARASKEVA-HADJICHAMBI, CYCERE, Cyprus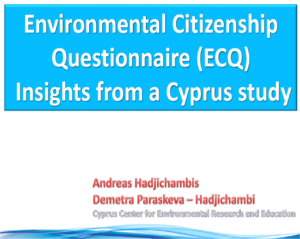 Measuring and Assessing Education for Environmental Citizenship, Prof Bryony HOSKINS, University of Roehampton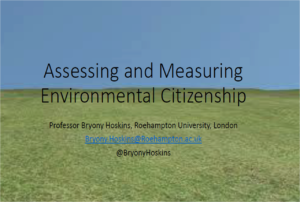 The Importance, the Main Characteristics and the Pedagogies of the Education for Environmental Citizenship (EEC), Prof Marianne KRASNY, Director of the Civic Ecology Lab in the Department of Natural Resources Cornell University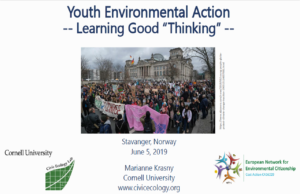 iREEC 2019 – 1st International Conference of the International Researchers of the Education for Environmental Citizenship, 7-8 November 2019, Malaga, Spain. Dr José Jesús DELGADO PEÑA, Universidad de Málaga, Málaga, Spain