6th 

European Science Caf

é 

of ENEC Cost Action
Title: 6th European Science Café of ENEC Cost Action
Location: Zvolen, Slovakia
Time: 24th  of September 2021
16th European Science Café of ENEC Cost Action for Education for Environmental Citizenship" took place in Zvolen (Slovakia) on September 24, 2021.
Objective: Discussion about the "Economic Dimensions of Environmental Citizenship". Spreading awareness of the project, its goals and results.
The discussion was coordinated by Dr. Vladislav Kaputa (MC Member Slovakia) and Dr. Hubert Paluš (MC Substitute Slovakia) – both from the Technical University in Zvolen. The ENEC brochures were available to participants. The Science café began with a presentation of the COST Action, ENEC consortium and outlining the main points of the topic. The book "Conceptualizing Environmental Citizenship for 21st Century Education" published by Springer was also introduced.
This informal meeting gained the great attention of participants, who were mostly academics, PhD.-students and other stakeholders in the fields of "Economics of forest-based sector" as well as "Ecosystem services". The topic "Economic Dimensions of Environmental Citizenship" led to an interesting discussion, because the environmental issues associated with forest protection, legal consequences and civic engagement are currently being discussed in Slovakia.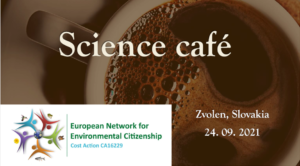 Photos: