"That time when humans were frozen and the planet was burning"
Elena Pericleous, Andreas Ch. Hadjichambis, Demetra Hadjichambi, Marianna Kalaitzidaki, Pedro Reis, Daphne Goldman
New book for children – Open access book.
An army of superheroes – A group of children, takes actions and saves our planet. A wonderful story of a group of children that act as environmental citizens to save our little blue planet from climate change. A group of children that implicate grandfathers and grandmothers and dogs and cats…And in the end? In the end, they make the change! A story that will excite, inspire, mobilize children. A story that you will never forget!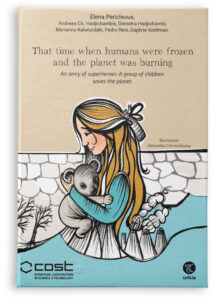 Click here to download the book directly.
Download the book for FREE: https://www.teleiabooks.gr/…/that-time-when-humans…/.