The Importance of Environmental Knowledge for Private and Public Sphere Pro-Environmental Behavior: Modifying the Value-Belief-Norm Theory
Liobikienė, G., & Poškus, M. S. (2019). The importance of environmental knowledge for private and public sphere pro-environmental behavior: Modifying the value-belief-norm theory. Sustainability, 11(12), 3324.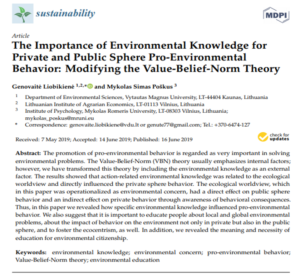 Abstract:
The promotion of pro-environmental behavior is regarded as very important in solving environmental problems. The Value-Belief-Norm (VBN) theory usually emphasizes internal factors; however, we have transformed this theory by including the environmental knowledge as an external factor. The results showed that action-related environmental knowledge was related to the ecological worldview and directly influenced the private sphere behavior. The ecological worldview, which in this paper was operationalized as environmental concern, had a direct effect on public sphere behavior and an indirect effect on private behavior through awareness of behavioral consequences. Thus, in this paper we revealed how specific environmental knowledge influenced pro-environmental behavior. We also suggest that it is important to educate people about local and global environmental problems, about the impact of behavior on the environment not only in private but also in the public sphere, and to foster the ecocentrism, as well. In addition, we revealed the meaning and necessity of education for environmental citizenship.