Active Learning Methodologies in Teacher Training for Cultural Sustainability
Molina-Torres, M. P., & Ortiz-Urbano, R. (2020). Active Learning Methodologies in Teacher Training for Cultural Sustainability. Sustainability, 12(21), 9043.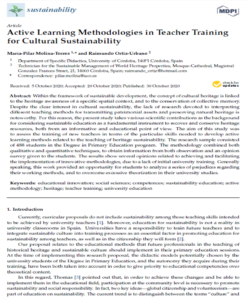 Abstract
Within the framework of sustainable development, the concept of cultural heritage is linked to the heritage awareness of a specific spatial context, and to the conservation of collective memory. Despite the clear interest in cultural sustainability, the lack of research devoted to interpreting different teaching methods for transmitting patrimonial assets and preserving natural heritage is noteworthy. For this reason, the present study takes various scientific contributions as the background for considering sustainable education as a fundamental instrument to recover and conserve heritage resources, both from an informative and educational point of view. The aim of this study was to assess the training of new teachers in terms of the particular skills needed to develop active learning methods related to the teaching of heritage sustainability. The research sample consisted of 488 students in the Degree in Primary Education program. The methodology combined both qualitative and quantitative techniques, to obtain information from both observation and an opinion survey given to the students. The results show several opinions related to achieving and facilitating the implementation of innovative methodologies, due to a lack of initial university training. Generally speaking, this work provided an opportunity for students to analyze a series of prejudices regarding their working methods, and to overcome excessive theorization in their university studies.