Active Citizens: Evaluation of a Community-Based Education Program
Simonova, P., Cincera, J., Kroufek, R., Krepelkova, S., & Hadjichambis, A. (2019). Active citizens: Evaluation of a community-based education program. Sustainability, 11(3), 663.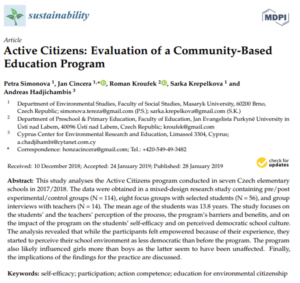 Abstract:
This study analyses the Active Citizens program conducted in seven Czech elementary schools in 2017/2018. The data were obtained in a mixed-design research study containing pre/post experimental/control groups (N = 114), eight focus groups with selected students (N = 56), and group interviews with teachers (N = 14). The mean age of the students was 13.8 years. The study focuses on the students' and the teachers' perception of the process, the program's barriers and benefits, and on the impact of the program on the students' self-efficacy and on perceived democratic school culture. The analysis revealed that while the participants felt empowered because of their experience, they started to perceive their school environment as less democratic than before the program. The program also likely influenced girls more than boys as the latter seem to have been unaffected. Finally, the implications of the findings for the practice are discussed.